Winner Announcement: Enjoy Summer Giveaway, Get Free FIFA Coins
2022-08-09 09:07
The event "Enjoy Summer Giveaway, Get Free FIFA Coins" comes to the end, now is the time to announce the result & lucky winners!
Next, the list of 4 winners are randomly chosen by the third party gleam.io according to the winning rate as long as the event ends. The details are as follows:
Prize:
1. 750K FIFA Coins
2. 650K FIFA Coins
3. 500K FIFA Coins
4. 400K FIFA Coins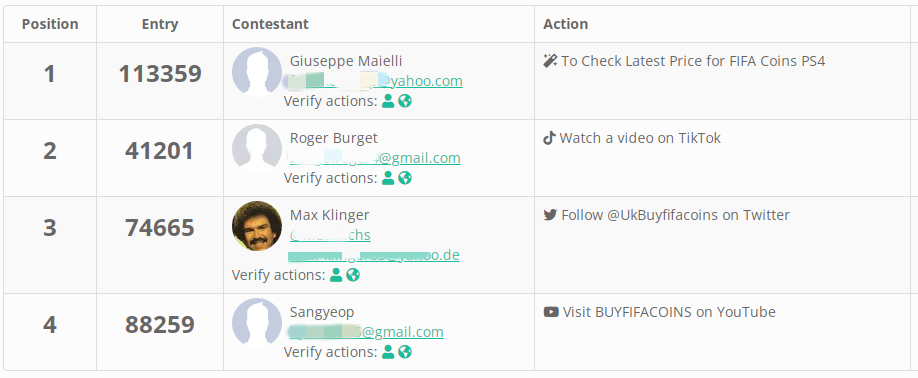 Congratulations to the above winners! Please contact 24/7 live-chat to claim corresponding prizes in one month!
Wish you good luck & Have fun at BUYFIFACOINS!
Alex T: buyfifacoins interface was very easy to use and their system was delivered fast.

The customer has bought:

FUT 23 Coins

2023/

05/24

Vinicius: Great experience highly recommend it a lot! It's like the third time using buyfifacoins and they are legit.

The customer has bought:

FUT 23 Coins

2023/

05/24

DK: 24hr chat is perfect, it's legitimate even though I was skeptical at first.

The customer has bought:

FUT 23 Coins

2023/

05/24




Koen: Order ID: 2974XXXX, great service. Took less than 24 hours to have coins loaded on the Xbox account. Online support has a great service, they helped with any technical questions, much appreciated!

The customer has bought:

FUT 23 Coins

2023/

05/24




Kukula: Ordered at 10 pm the night, and I wasn't expecting the coins can be delivered before the next morning. Also, I made a new order and then receive the coins in 15 mins. Really good!

The customer has bought:

FUT 23 Coins

2023/

05/25




Gomes: 5 stars for fast and reliable service and I never had issues with customer service either. Order ID:2975XXXX

The customer has bought:

FUT 23 Coins

2023/

05/25




Jatin: Very reliable and fast service. Bought players multiple times, quick delivery.

The customer has bought:

FUT 23 Players

2023/

05/25




Aboushousha: Used this site a couple of times, pretty easy with the customer support 24/7, recommend it!

The customer has bought:

FUT 23 Players

2023/

05/25




Azaquari: This service is incredible I received my parts in less than 30 minutes I really recommend it!

The customer has bought:

FUT 23 Players

2023/

05/26




Hidalgo: Great service. I got my players in less than 2h. The best website ever.Awesome love it wow so happy thank you.

The customer has bought:

FUT 23 Players

2023/

05/26




Gewrgalis: Amazing fast and fully active! I recommend buyfifacoins.com for your future purchases!!!

The customer has bought:

FUT 23 Players

2023/

05/26




Videxo: User-friendly, reliable, fast delivery, enhance your FIFA gaming experience with confidence!

The customer has bought:

FUT 23 Players

2023/

05/26